What we'll be using...
Opening "My" Box!



Before I ever even started thinking about homeschooling, my friend already knew she would be homeschooling and started her search for what curriculum she would be using with her oldest daughter. Once she found one she liked, she bought it and then showed it to me! I instantly was like in love with it! I was so super excited for her and just wanted it for myself! Especially that teacher's manual! (Remember I always wanted to be a teacher?!) What I really loved was how it was all based on God's Word and His Truth! Suddenly, I started thinking about what I wanted in an education for my children. I just figured they go to public school and turn out fine like I did. But now, having my own children, their education and "what" exactly they would be being taught became serious to me. I totally loved the idea of Gage and Malia seeing how God had made everything and how amazing His works are, and how He made this beautiful Earth for them! Something that I wish I would have taught at a much younger age...like right from the start! I can't change how I was taught, I'm just thankful God chose to show this Light to me, and so very thankful that I CAN educate my children this way!




So, when my friend showed me her wonderful Kindergarten package from
My Father's World
I was swept off my feet! Many months later when we felt that we were going to be homeschooling, I just looked up My Father's World and kept falling more and more in love with it (and each grade as I started reading more...a timeline...heart is melting!)! I didn't really feel much need to shop around anymore until it started getting closer to the time that I would actually be ordering it, but all I found was some great books or lessons here and there, and that My Father's World was still calling my name! I love how Kindergarten is all about showing how God made everything and teaching great Godly characteristics for my children and myself to soak up!
When I was doing a little shopping around, I mentioned I did find a few other things I liked, so, I did buy Christian Liberty Press' The World God Made.
I really liked this book. I didn't really think I'd add anything, but when I saw this book, I loved how simple, but rich it is in sharing how God made it all! I plan to use a page or two with several of our units. The first two weeks of MFW-K are Creation and we have a lot of Bible story books, but believe it or not, not really much just on creation...so, this will be our main reading book/information book for creation! I like how it explains what God did on each day and gives a craft type idea to go along with it!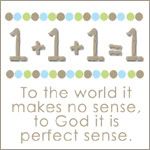 Our other additions are from Carisa, from
1+1+1=1
, and Jolanthe, at
Homeschool Creations
, two blogs I found about a month or so ago...they have tons and tons of great ideas and FREE printables that go along with our units! I have gone threw two things of ink and 3 packages of paper since finding these sites! Needless to say, I've printed just about everything they have!

And last but not least....Homeschool Creations shared on facebook a sale on Little Passports and I thought it sounded like so much fun and a nice way to introduce Gage to "the world" outside of our little town! I also thought it might be nice to go back to when we study the Continents and Countries later on!
This is what Gage will be doing and I hope to include Malia in as much as possible! I printed off a lot of things for her to do more at her level that are the same theme as what Gage will be doing along with some extra Princess stuff, since she's all into Princesses right now(I so love it!) Miss Malia is one of the reasons I am so nervous. She is a very busy active girl and it worries me, but I'm praying that it will work out and she'll do some stuff with us, some special stuff of her own, and play!
I am so excited(and totally nervous) for our first year homeschooling! It looks like we'll be having a lot of fun adding into our learning! I think this will be great for Gage as well! I'm praying that we have a wonderful year learning together(another thing I am so stoked about..I will be learning so much Bible history that I don't(sadly) know already! Plus, I'm way more interested in science and geography now than I ever was in school!). I'm praying that it really draws us closer as a family and that we all have a new appreciation for all God has made and done for us as well as more Christ-like heart attitudes that shine for Jesus!!!
t

he MittelMommy teaching MittelSchool